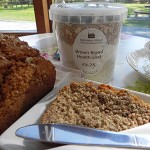 We are delighted to announce our success at the Blas na h'Eireann Irish Food Awards held in Dingle this weekend. The Blas na h'Eireann Awards have grown both in size and prestige to become the most coveted signifier of excellence in the Irish Food Industry.
Kylemore Abbey won a total of four medals, three gold and one silver. We received gold for Our Dark Chocolate Bar with Nuts handmade by the Benedictine Nuns in the Chocolate Kitchen here at Kylemore. The Chocolate Kitchen was formerly the Kylemore Abbey School Home Economics Room , which the nuns have been using for their chocolate making venture since the closure of the school in 2010. Sr. Genevieve Harrington expressed her delight at receiving the gold medal which is a recognition of all the hard work that has been put into perfecting the Kylemore Abbey Chocolate range.
We also won gold for two of our Kylemore Abbey Baking Mixes, the Healthy Brown Loaf Mix and the White Chocolate and Cranberry Cookie Mix, which are made by our Pastry Chefs in Mitchells Café. Our Double Chocolate Cookie Baking Mix won a silver award. Kylemore has always had a very strong tradition of home baking and the Baking Mixes Range has become the perfect way for people to recreate the taste of Kylemore in their own kitchen's. Our Baking Mixes are the latest edition to our range of high quality Kylemore Abbey Food products which also includes well -loved Jams, Chutneys, Christmas Puddings, Cakes and traditional Christmas fayre such as Brandy Butter and Mincemeat. Kylemore Abbey was represented at the awards by Sous Chef Dolores Heanue who had quite a job managing all the beautiful trophies.
All of our award winning products are available to buy here at Kylemore Abbey or through our online shop at www.kylemoreabbeytourism.ie.