Oct
21
Sat
CONAMARA SEA WEEK

@ Letterftrack, Connemara
Oct 21 @ 10:00 am – Oct 29 @ 7:30 pm
CONAMARA SEA WEEK RETURNS TO THRILL VISITORS WITH DIVERSE PROGRAMME
The 39th annual Conamara Sea Week Festival takes place in the picturesque village of
Letterfrack in north-west Connemara from the 21 st to 29 th of October. The festival aims to
highlight the rich environment, marine life and cultural heritage of the Connemara region.
The programme of events and activities has something for everyone with workshops, art,
music, talks, walks and much more. The themes for this year's festival include climate action
and biodiversity, and the organisers are delighted to announce that Duncan Stewart,
Ireland's leading environmental and climate advocator, will join the festival line-up.
Education is a central element of the programme and local students from primary and
secondary schools, Youthreach, GRETB and Atlantic Technological University (ATU) will all
be involved. Clean Coast, which works with communities to help protect and care for
Ireland's waterways, coastline and ocean life, will carry out workshops in the local schools.
Artists and designers will work with students to create a spectacular Night Light's exhibition,
a magical display of lights throughout the village.
Renowned for its musical programmes, this year's festival doesn't disappoint. Local and
visiting musicians will perform on both weekends, in Veldon's Seafarer Pub. This year's line-
up includes Liz and Yvonne Kane with Muireall Murray, Don Stiffe and the Hernon family,
Matt and Coonor Kane, accordion player Daithí Gormley, Josephine Marsh and much more.
A music workshop for young and up and coming musicians will also be hosted by Marie
Walsh from Trad in the West.
Climate activist and Eco-Eye host Duncan Stewart will be on hand to lead the discussions at
a climate and biodiversity seminar. He will be joined by researchers from ATU Marine
Biological Resources programme, Fiacc OBrolchain of the Irish Whale and Dolphin Group,
and Sven Habermann from Conservation Letterfrack, who recently returned from a 2-month
project in Antarctica. The conference will also include traditional music and poetry readings
by Theodore and Annie Depp. An ATU research project called Power to Change, funded by
the Department of the Environment, Climate and Communications, offers participants an
opportunity to learn about native woodlands and how Irish-grown timber can be converted
and seasoned, and used to make beautiful furniture artefacts.
For lovers of art and creativity, the small works art exhibition provides a platform for
emerging artists to exhibit alongside some of Connemara's most well-known and established
artistic community. Interface Inagh, renowned for its dynamic exploration of art and science,
will host Noeline Kavanagh, former artistic director of Macnas and an expert in the creation
of amazing puppets and sculptures. Artists Seçil Yaylalı and Selin Atik of PASAJist Art
Space in Istanbul, will deliver a workshop on mask-making.
The festival features a strong collaboration with Connemara National Park, where there will
be a series of guided walks and biodiversity workshops. There's also a mini boat regatta, a
pond-dipping activity and an oyster shell painting workshop. This year will include a
fundraiser sale by Renvyle Cat and Dog Rescue, a guided shore walk and beach clean, and
Conamara Environmental Education &Cultural Centre
Celebrating 39 Years: 1984 – 2023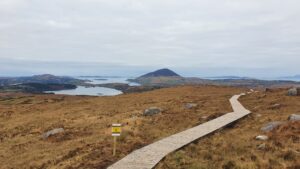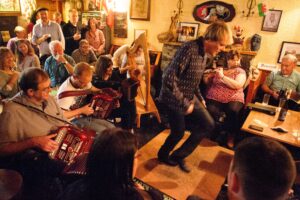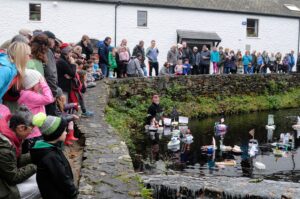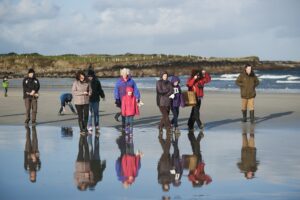 , Letterfrack, Connemara, Co. Galway, Ireland.
www.ceecc.org conamaraseaweek@gmail.com 0860565865
of course the annual Active Age Club lunch gathering in Rosleague Manor House Hotel with
music, songs and mischief. Other highlights include the launch of the Hidden Lakes of
Connemara in Books at One, a talk on ancient currachs by Claidhbh Ó Gibne and the story
of artists Harry Kernoff and his Connemara-inspired works of art by writer and researcher
Vitor Vicente.
Dermot O'Donovan, Chairperson of Conamara Sea Week, says "We are delighted to once
again launch our 39th festival programme. With a fusion of music, art, science, walks and
talks, the festival caters for all ages and interests. Climate action and biodiversity continue to
be central themes, but we also look to celebrate the rich artistic and cultural heritage of the
area. We are honoured to have Duncan Stewart join us this year, someone who has inspired
generations of environmental activists with his passion and energy. The support we receive
from Galway County Council and local businesses is invaluable and means that most events
are entirely free. Be sure to join in the fun and keep an eye out on our website for updates."
The full programme of events can be downloaded at www.connemaraseaweek.ie or
https://www.facebook.com/culturalconnemara/