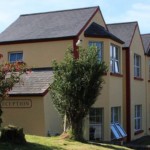 Perched at the mouth of The Killary (Ireland's only fjord), The Connemara Hostel (sister of the highly-rated Sleepzone Galway City) is one of the most spectacularly situated hostels in Western Europe. Offering both private and dormitory accommodation (all en suite), this hostel provides free internet and WiFi access, bureau de change, tourist information, self-catering kitchen, residents' lounge, TV & games room, pool table, private tennis courts, parking and camping facilities. The Connemara Hostel makes the perfect base for fantastic mountain walks, cycling, horse-riding, visiting Kylemore Abbey and Connemara National Park, and the nearby Killary Adventure Centre offers a variety of adventure activities.
Winter Opening Hours
Reception is Open:
From 9.00am to 12.00 noon
From 6.00pm to 10.00pm
If you will arrive outside of the above times please ring the hostel in advance on 00353(0)95 429 29.
The Connemara Hostel official website
Email us: connemara@sleepzone.ie
Phone: +353 (0)95 42929