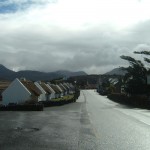 Nine traditional thatched cottages in a scenic coastal area in the village of Tullycross. The cottages are a romantic blend of the rustic and the modern, combining the traditional design of the authentic Irish thatched cottage and home comforts of fully equipped kitchen, T.V. and central heating throughout.
By day you can avail of the many local amenities and return in the evening to the comfort of a cosy turf fire.
Babysitting, cleaning and other optional services can be arranged.
Renvyle Thatched Self Catering Cottages official website
Email us: anne.jack@connemara-west.net
Phone: +353 (0)95 43464