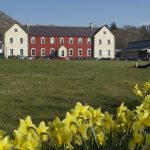 GMIT Letterfrack campus is the National Centre of Excellence for Furniture Design and Wood Technology.
It has been synonymous with the study of furniture design since 1987.
We offer honours degrees specialising in:
Furniture design and manufacture
Furniture and wood technology
Teacher education (construction studies and DCG)
Our graduates are recognised for their innovative, creative and responsive approach to projects. They frequently win and feature in shortlists for national and international awards.

GMIT Letterfrack – Furniture Design College official website
Email us: letterfrack@gmit.ie
Phone: +353 (0)91 742650