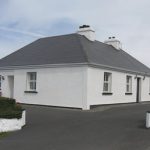 Atlantic View is a beautiful bungalow in Renvyle County Galway. The property boasts four bedrooms, two of which are doubles, one of these is ensuite and the remainder are two singles.The main bathroom has an electric shower. There is a separate washer/dryer/laundry room.
There is a secure garden with swings and furniture to enjoy on a summer's evening and ample parking surrounding the property. The warm relaxing living room has an open stone fireplace. The fully fitted modern kitchen and dining area have spectacular views of Inis Bofin, Inis Turk and Clare Island.
There is plenty to see and do nearby with Kylemore Abbey, Connemara National Park and the town of Clifden a short picturesque drive away. A golf course on the Renvyle shore is worth a visit. Scuba diving, angling, pony trekking and boat trips to the Islands are also available locally.
Key Features
Parking
Central Heating
Cable Television
Washing Machine
Dryer
Dishwasher
Microwave
Atlantic View Self Catering official website
Phone: +353 (0)95 43432