Over 100 Tourism Businesses and Community Groups to attend major Connemara networking event
Over 100 Connemara tourism businesses, community representatives and festival and events organisers are to attend a major networking meeting from 10.00am to 2.00pm on Thursday 5th March in the Connemara Coast Hotel.
Kindly supported by Galway County Council and Údarás na Gaeltachta the aim of the event is to familiarise everyone in Connemara with each other's product offering and in turn deliver a range of networked experiences that will entice new visitors to Connemara in 2015 and 2016.
The event will build on many successful initiatives held in the past including the bundling event held in Kylemore Abbey in 2010 when over 160 representatives from the area gathered to begin a new momentum of working together.
Dominic O'Morain, Interim Chairman of Connemara Wild At Heart, stressed the importance now of maintaining Connemara's great reputation for attracting domestic visitors while also focusing attention on ensuring that we increase the amount of high spending foreign visitors. To do this, Dominic stated,
"We need all those involved in tourism to collaboratively deliver innovative experiences that act as a catalyst to convince visitors to stay in Connemara. The event and follow up afterwards will ensure that we all work together to build knowledge about what we have to offer here in Connemara, network and cross sell. Understanding what our visitors want, being innovative and creative in meeting their needs and exceeding their expectations is what the event aims to initiate. This will win new business and ultimately keep us well ahead of our competitors".
The facilitated networking session aims to encourage as many meetings as possible between tourism providers so that arrangements can be made to actively sell each other, Connemara and the Wild Atlantic Way.
As main sponsor for this event Kevin Kelly, Chief Executive of Galway County Council said "Galway County Council is delighted to support this important tourism networking event.  Tourism is one of the key sectors contributing to our economy and Galway County Council is committed to working with businesses and all relevant partners to ensure that the sector realises its potential.  Events like this that brings together businesses to develop connections and business relationships is important.  It is very encouraging to see business leaders in the Connemara area take the initiative to organise the event and our pleasure to support it."
To register your attendance at this event or for further information please contact
Karen Curry, First Western T: 071 91 65973; E: karen@firstwestern.ie before Friday 27th February, 2015
_____________________________________________________________
The Chinese Ambassador for Ireland, Mr Jianguo Xu and his wife, Ms Ni.Li recently paid a visit to the iconic Kylemore Abbey and Victorian Walled Garden in the heart of Connemara. This was the first visit to Connemara by the Ambassador who was extremely taken with both the landscape of the area and history of Kylemore Abbey. Mr Xu, formerly Chinese Ambassador to New Zealand said that the landscape here reminded him very much of New Zealand but with the added attraction of a beautiful architectural history too. Accompanying the Ambassador on his visit was Mr Kam Chin, chairperson of the Irish Chinese Society in Galway. Mr Chin runs a successful language and catering school in Galway and is a regular visitor to Kylemore. During the visit the Ambassador and his wife met with Mother Maire Hickey, Abbess of the Benedictine Nuns at Kylemore Abbey and Pat Lavelle, CEO of Kylemore Abbey and Gardens Ltd. The Ambassador and Ms Ni. Li were presented with a beautiful hamper of Kylemore Abbey Fuchsia Pottery by Mother Maire Hickey.  The Ambassador and his entourage took an extensive tour of the grounds including the Gothic Church and Walled Garden before ending their visit with tea and apple pie in Mitchell's Café.
____________________________________________________________________________
President Michael D. Higgins will officially open the Conamara Sea Week Festival on October 17 as part of the award-winning Conamara Environmental Education & Cultural Centre's 30th birthday celebrations.
President Higgins will also launch 'The Letterfrack Poetry Trail', which consists of nine specially-commissioned poems on plaques – with three plaques in the National Park, three in the Connemara West Centre and three around the village of Letterfrack. The work of some of Ireland's most eminent poets – including Paula Mehan, Louis dePaor, Mary O'Malley, Joan McBreen, Eva Bourke, Theo Dorgan, Rita Ann Higgins, Michael Gorman and Moya Cannon – are included in the trail, exploring the importance of place in our lives.
This is a family-friendly festival, most events are free and some – such as the book fair, music and dance workshops, kite flying and mini-boat regatta – are focused on children and family.
As always, the festival is wrapped in the very best of Irish music with some of Ireland's finest players coming west – players such as Mairtin O'Connor, Seamus O'Dowd, Cathal Hayden, David Power, Cara 
O'Sullivan, Kieran Summers, Donal Clancy, Sean Tyrell, Connor Keane, Geraldine O'Grady, Don Stiffe, Una Keogh, Josephine Marsh and Mick Kinsella joining some of Conamara's finest – The Kane Sisters, Marie Walsh, Johnny Connolly, The Hernon Family, Gearoid Devaney, Johnny O'Halloran, Nathan Pilatzke and Mary Bergin to mention but a few.
For further information 

see www.ceecc.org, email ceecc84@gmail.com or call 085 1154629
________________________________________________________________________________
The Connemara Loop spans a route of 85km taking in mountains and valleys and coastal routes with vibrant villages and parishes along the way, each with some event or news happening in the area and this platform is here to keep the 100+ members in touch with each other and to let those visiting in the area know what's going on!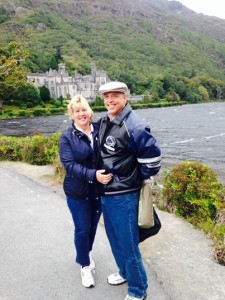 Touchdown for Penn State! Love was in the air at Kylemore Abbey today when Greg Pappas got down on one knee in our Beautiful Gothic Church and proposed to Diane (Dee) Allison of Lancaster PA . Diane happily said Yes!   The couple travelled to Kylemore as part of a group supporting Penn State University American football team who are here to take part in the inaugural Croke Park Classic football Match at the end of the week. Certainly brightened up a cloudy day here in Connemara. Best of luck Greg and Diane and we would love to see your wedding photos – Enjoy the big game!