Oct
29
Tue
Maam Cross Fair

@ Maam Cross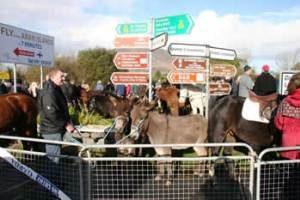 Connemara Pony enthusiasts from around the world will be in Maam Cross for the Maam Cross Fair. The historic one-day fair stems from the tradition of local farmers selling their surplus produce at the crossroads in order to supplement the meagre living which they eked from the rocky Connemara landscape.
The fair has grown to become a major event in Connemara, and features cattle, sheep and farm produce, as well as the popular Connemara ponies. The Fair takes place annually on a Tuesday, following the October Bank Holiday which occurs on the last Monday in October.
This year's event will feature trophies and cash prizes for the best filly foal and colt foal of registered parents, along with the perpetual cup for the best pony of the fair.
Horse shoeing demonstrations and a horse shoe throwing competition, are among the many attractions planned for this year's event.
Location: Peacocke's Hotel & Complex, Maam Cross, Co Galway,
Telephone: +353 91 552306